Click here to view original web page at www.citylab.com
The advertising executive Michael Franzini, founder of the nonprofit ad agency Public Interest, has created campaigns to fight AIDS, spur Holocaust awareness, and advocate for STEM education. The cause driving his latest campaign is a tricky one: He wants to bring housing policy—a topic that is now largely the purview of wonks, developers, big city activists, and a select few politicians—into the forefront of our national discourse.
"In the same way that Al Gore put climate change on the map, that's what we're hoping to do," Franzini said. "We want everyone to start demanding change."
To pull that off, Franzini and Public Interest developed a campaign called Home1, which so far consists of a series of slick explainer-style public service announcements detailing the roots of the current affordable housing crisis. Soon to come: a feature-length documentary that he hopes could be affordable housing's Inconvenient Truth.
"There is no greater crisis that, at least in my lifetime, has ever faced our country and not been talked about," Franzini said. "And the reasons for that are all about how it is communicated... As soon as you start talking about the nuts and bolts of it, people glaze over."
Franzini is joined in this quest by a curious cast of fellow travelers who are committed to raising the political profile of the American housing dilemma. As home prices creep upeverywhere from established tech hubs to traditionally inexpensive cities like Boise and Nashville—and as homelessness reaches epidemic proportions on the West Coast—a number of organizations from a diverse array of sectors have recently formed to push for housing policy changes at the highest levels of government. They're frustrated by the lack of engagement on housing that national political leaders are offering. And they're finding that, at least for the moment, the first order of business is just educating people about the seriousness of the issue.
That's where Home1 comes in. It's an effort to raise an alarm about what it calls "the silent crisis in America" for a mass audience. With funding from the New York State Association for Affordable Housing and other affordable housing developers, Home1 submitted a television PSA called "Which Jobs Pay the Rent?" to major networks nationwide. Another new PSA offers a brief, infographic-laden explainer on the affordability dilemma.
Like their PSAs, the seven-minute trailer for The Contract, Home1's upcoming documentary feature, mixes melodrama and factoids. In Wilkes-Barre, Pennsylvania, 40 out of 68 city firefighters need a second job to pay the rent, the film reports; in New York City, a once-homeless woman has to work 20 hours a day to afford an apartment. The film's title is inspired by the Housing Act of 1949, which some scholars say represents an "explicit social contract" to provide adequate housing for all Americans.
The nonprofit smart growth advocacy group Up For Growth has the data to at least partially explain why the nation has strayed so far from that goal. Founded by executives from the real-estate company Holland Partner Group, Up For Growth introduced itself in April with a report called "Housing Underproduction in the U.S." Between 2000 and 2015, the report finds, the U.S. produced 7.3 million fewer homes than it needed to to keep up with demand and population growth. Out of the 23 states that under-produced, the worst culprit, unsurprisingly, was California, with a shortage of 3.4 million homes. But some low-cost states like Idaho and Michigan under-produced, too.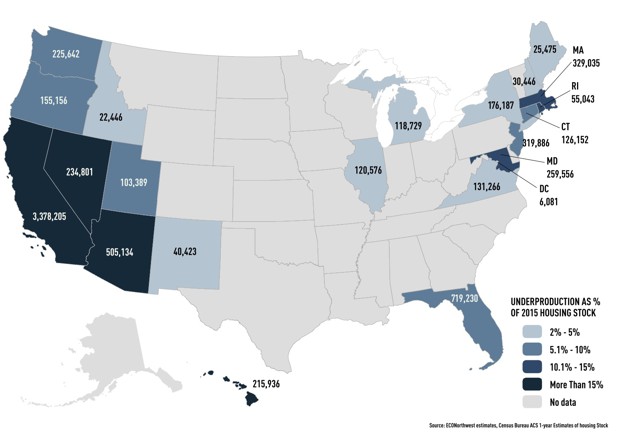 Some economists have criticized the study's methodology, but there is widespread consensus that the country as a whole—not just high-cost metros—is not building enough homes. New home starts are barely above their 60-year low a decade after the Great Recession, and the National Association of Home Builders estimates builders will begin about 900,000 new homes in 2018—400,000 short of what's needed to keep up with population growth.
There is also growing consensus on what should be done about the housing shortage: Ease density restrictions in high-opportunity areas near jobs and transit. This prescription, in the vein of California's failed transit density bill, SB 827, is the pillar of Up For Growth's advocacy.
"There's been what I call a depletion of the institutional memory around developing urban infill, which we did a whole lot of prior to World War II," said Mike Kingsella, the group's executive director. And the amnesia is not limited to the big-city NIMBYs that are frequently targets of housing advocates' ire. "This conversation is frankly new to a lot of federal policy makers, so we've been engaged mostly in education," Kingsella said. The group is currently working to set up a legislative briefing on Capitol Hill.
Their big talking point: Build up, not out. The study emphasizes the economic and environmental benefits of a smart-growth approach to the housing shortage. If American cities grow by densifying existing neighborhoods with mostly mid-rise apartment buildings, they would use just 25 percent of the land area required to build the same number of units using current growth patterns. This would also lead to a 28 percent reduction in vehicle miles travelled, and the cost of infrastructure installation would be seven times less.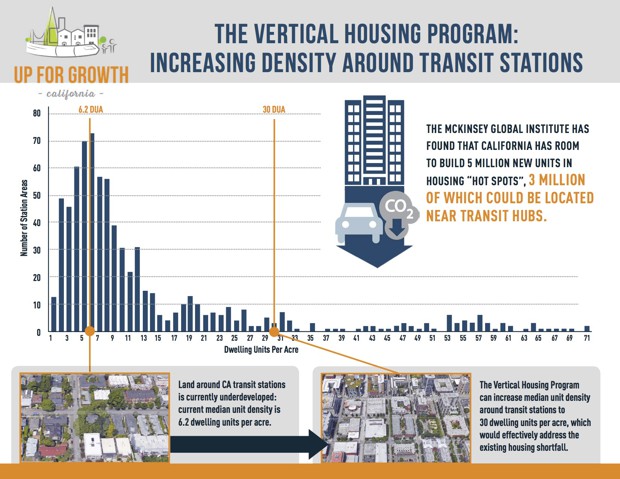 Like the coalition California State Senator Scott Wiener attempted to convene around SB 827, Up For Growth is beginning to build a broad group of stakeholders. So far, members include traditional real estate companies and economic development groups in California, as well as the affordable housing developer BRIDGE Housing, and Make Room USA, a renters advocacy group with ties to FHO. Up For Growth is also in talks with environmental and transit advocacy groups, Kingsella said.
Another member of the Up For Growth coalition is Technet, a tech industry lobbying group. In virtually all cities where it has a major presence—from Pittsburgh to Seattle to nearly every big city in California—the tech industry has been closely associated with rising housing costs and gentrification. But the industry is starting to wise up to its impact: More than 100 tech leaders signed a letter in support of SB 827, and others have made massive donations to YIMBY organizations.
These kinds of big employers are a "a key constituency, we're finding," Kingsella said. Increasingly, companies in high-cost cities are having trouble recruiting workers, driving them into the housing discussion. A recent survey from USC and the Los Angeles Business Council—an Up For Growth member organization—surveyed L.A.-based companies and found that nearly 60 percent of them listed housing costs as an employee retention issue. Nearly all companies reported that at least a quarter of their employees spend more than 45 minutes on a one-way commute.
Nonprofits are also looking to make an impact on the housing issue, via a new consortium of charitable foundations called Funders for Housing and Opportunity. With their myriad interest areas, America's largest philanthropies are well positioned to address the intersectional nature of housing, but the giving sector needs to have its own educational process. The creation of FHO stemmed from the revelation that "there wasn't a commensurate amount of philanthropic attention on affordable housing issues at a time when housing issues are so critical," said Don Chen, director of the Ford Foundation's Just Cities and Regions team, and an FHO executive committee member.
The largest grantee from the fund so far is a a "multi-sector" federal housing policy initiative called Opportunity Starts at Home. Education, healthcare, civil rights, and economic mobility are all profoundly affected by access to housing, the group argues, and by putting these issues at the fore, federal officials might finally begin to take it seriously.
More than just housing people, FHO wants to provide families with "a home that is attached to opportunities," said Susan Thomas, chair of FHO's leadership team and a senior program officer of Melville Charitable Trust. They look to fund housing initiatives that move families "up the economic ladder and connect the next generation to educational opportunities," and "connect the household to healthy food and a healthy lifestyle."
When it comes to the government's involvement in housing, however, the public rarely has such positive associations. "A lot of people immediately jump to 'rental subsidies' when they think of 'subsidized housing,'" Thomas said. But this is far from the case.
The mortgage interest deduction, which allows people to deduct a portion of their mortgage payments from federal taxes, is a larger subsidy than all tax breaks and government funds for low-income renters combined. The Center on Policy and Budget Priorities recently found that 60 percent of America's housing spending benefits households earning $100,000 per year or more. President Donald Trump's tax reform bill slightly curtailed the MID—but it also significantly decreased the value of the Low-Income Housing Tax Credit, now the primary federal financing mechanism for low-income housing. That policy change could lead to 235,000 fewer affordable units being built or renovated over the next decade.
Simply redirecting funds that are now subsidizing the homes of wealthier people could substantially increase the federal government's commitment to affordable housing without any new spending. But convincing voters to engage on this and and other housing policy changes will require them to be aware of and understand these issues—which is where these new national-level housing organizations come in.
Whether they will have an Al Gore-sized impact remains to be seen, but there are already early signs that the discourse on housing is shifting. California's SB 827 may have failed to sway enough voters first time around, but it succeeded in sparking a national conversation about the importance of densifying cities. Pending legislation in California, Massachusetts, Austin, and Minneapolis would apply similar smart growth principles. Building more public, affordable housing appears to be gaining in popularity, as evidenced by the hype surrounding a recent report detailing how the U.S. could build ten million units of public housing in ten years. And new rent-control initiatives are gaining steam in California, Washington, and Illinois.
Like the fight against climate change, the battle for better housing policy could be a frustratingly long one. Indeed, both find themselves severely stymied by the current administration. But as we've seen in high-cost cities, housing affordability can become so bad, so fast, that the issue could very well force itself.