Click here to view original web page at bostonagentmagazine.com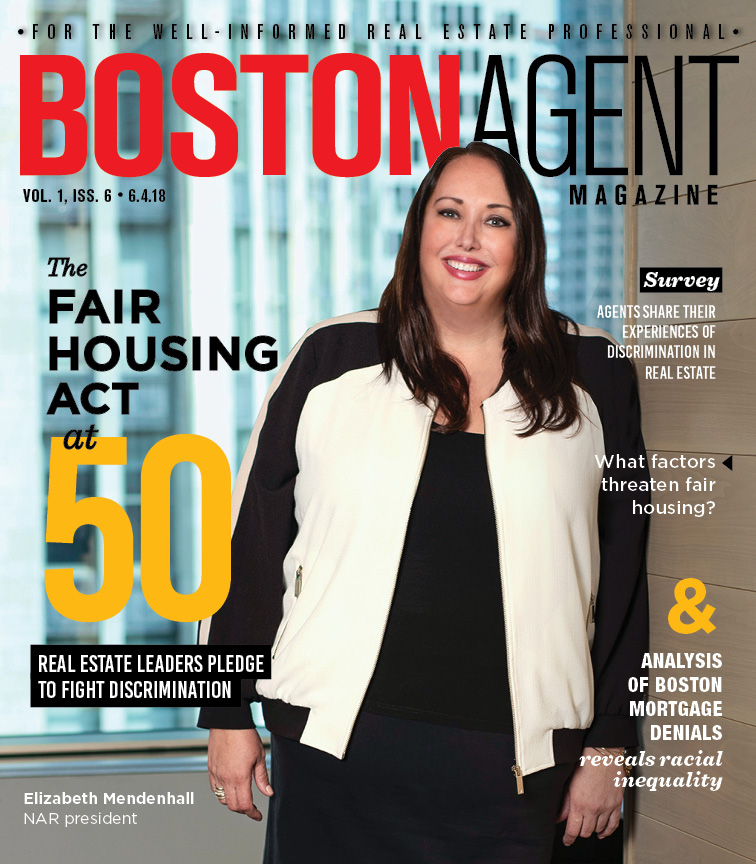 Before the federal Fair Housing Act could be signed into law on April 11, 1968, political compromises to ensure its passage in the Senate carved a big whole in the legislation. The change eliminated the government's ability to bring enforcement actions against violations of the law. While the landmark bill finally banned discrimination in the selling or renting of housing, it left the question of enforcement open-ended. In response, some 2,000 fair housing groups took up the responsibility. Really, though, this meant that real estate agents would be on the front lines of policing a new and controversial law.
Fifty years later, the face of racial bias and discrimination in housing has changed, but the real estate industry's unique position to effect change on the topic hasn't. Though the country has made significant strides in rooting out institutionalized discrimination in housing and other industries, real estate professionals still play a central role in leveling the playing field.
"As Realtors, one of our foundational beliefs is that we know that we are the stewards of the right to own, to transfer property," says Elizabeth Mendenhall, president of the National Association of Realtors. "It's something we're very proud of. It is an obligation above and beyond other professionals. But it's a reminder to us that we're all the same."
An agent's relationship to the federal Fair Housing Act has morphed over time, but its ideas and legality is still a central tennant of the profession. On the 50th anniversary of the landmark legislation, here is how the battle for housing equality has changed over time and how agents can help to ensure its future success.
"Despite what people think, housing discrimination is not confined to select regions and neighborhoods. It continues to be a national issue that touches all markets," says Neda Vander Stoep, an agent with Coldwell Banker Residential Brokerage in Boston. "On the bright side, progress has been real, however, there is still so much that remains."
How we got here
The Fair Housing Act was signed into law exactly one week after Dr. Martin Luther King Jr.'s assassination. The idea for the law was not new: it was left out of the initial Civil Rights Act of 1964 and Congress had debated its merits through 1967, but it never garnered enough support for passage during that time. President Lyndon Johnson used King's tragic death to push for the bill's passage.
King, on top of being the most visible champion of civil rights in America, had also established himself as a leader in the fight against housing discrimination. In 1966, King marched on Chicago's South Side to protest the confinement of black residents to far flung communities with adequate housing or services.
Read more from our Fair Housing Issue
King rented one of those apartments to bring attention to the plight of black Americans in northern cities. His supporters attempted to march to a real estate office that was barring black residents from buying in an all-white neighborhood, but King was hit in the head with a rock and a riot broke out.
The incident pushed housing rights to the forefront of the political discussion, and President Johnson sought to honor King's memory with passage of the housing bill before the civil right martyr was buried.
Johnson's ploy worked, but the question of how the new law would impact housing discrimination remained to be seen.
As a student at Boston University, David Wluka, broker/owner of Wluka Real Estate Corp., marched with King. He said housing discrimination was on the forefront of the civil rights conversation, just as it is now.
"The areas I grew up in in Boston, I remember people who I knew say, 'Hey, you know whose moving in, right? You better move,'" he says. "Now, you can go to jail for that. I've dealt with the issues face to face. We've seen progress but we have a lot further to go."
Agents on the front lines
There are arguments that the Fair Housing Act was a watered-down law that had more symbolic effect than tangible impact on housing discrimination. Supporters of the argument note that segregation in America is as prevalent as ever. In fact, segregation only dipped slightly in the 1970s — in the years immediately following the bill's passage — but quickly rebounded, according to a report by Richard H. Sander, a professor of law at UCLA and author of the book "Moving Toward Integration: The Past and Future of Fair Housing."
Still, there is evidence that the law has had an impact on discrimination. Sander writes that a 1977 study by the department of Housing and Urban Development sought to see how rampant discrimination was. It set out black and white "testers" who sought information about minority or all-white communities. Results showed that black testers faced significantly less discrimination when inquiring about a white area than they did in the 1950s, according to Sander.
Such studies show that incidents of overt discrimination in the home selling and buying process have decreased. While such overt discrimination may be much more rare, issues of housing discrimination still exist — and it is still up to agents to take a stand.
"Housing discrimination continues to exist and impacts our day-to-day as agents in more ways than some may realize," Vander Stoep says. "Most commonly, agents unwittingly foster and encounter fair housing discrimination in listing advertisements, as many agents do not realize they need to avoid words that could reasonably be understood to refer to or exclude any protected classes."
Vander Stoep says examples of such include marketing a place as "family friendly" or even for singles and young people can be seen as exclusionary or discrimination. Another common housing discrimination issue, she says, is buyers seeking a home "in a safe neighborhood" or in an area known as being home to one ethnicity.
Wluka says that, in his 43 years in real estate, he has even seen overt racism, including sellers requesting certain people not inquire about their home.
"I've had sellers tell me, 'I don't want these people in my house,'" he says.
In those instances, Wluka says he follows the Realtor code of informing of the discriminatory request and refusing to perform it.
"My response is, you have to find another broker. It's very easy to say, actually. All that matters is, do you like this community? Can you afford this house? That's all it's about."
Now, Wluka says he sees a new kind of overt discrimination.
"That mixed-use, affordable housing is fought so severely prevents diversity," he says. "The way you develop land enhances diversity. Getting a diverse population into homeownership gives them a bigger stake in their community."
Next Steps
The Fair Housing Act includes seven protected classes: race, color, religion, national origin, sex, disability and familial status. Sex was added in 1988, the last time the federal law was amended. States and municipalities, however, are able to add to the number of protected classes. Massachusetts in 2011 added gender identity to its list of protected classes in housing as well as employment and public education.
In 2009, NAR included a guideline in its Code of Ethics for Realtors not to allow discrimination based on sexual orientation or gender identity. Mendenhall says she would like to see more protections for these classes, and that NAR is working on the case. They are fighting for other classes as well, she says.
"There are some states and municipalities that have included veterans in their housing laws," she says. "As Realtors, we want to fight for them so they can get fair housing. They fought for our protection, so we want to fight for them."
Echoing long-held complaints with the law, Vander Stoep says the government should give enforcement of the law greater priority.
"Like any law that suffers from a widespread lack of day-to-day compliance, I'd welcome increased resources for enforcement, including if that would require more and higher potential penalties."
NAR, as well as its local affiliates and other real estate groups, have been commemorating the 50th Anniversary of the Fair Housing Act throughout this year, while also acknowledging the work that still needs to be done.
"We're commemorating the Fair Housing Act but we're also know there's a past, there's where we are in the present and there's the future, where it's critical that not just the protected classes but that anyone doesn't face discrimination in housing," Mendenhall says.