Click here to view original web page at www.dotnews.com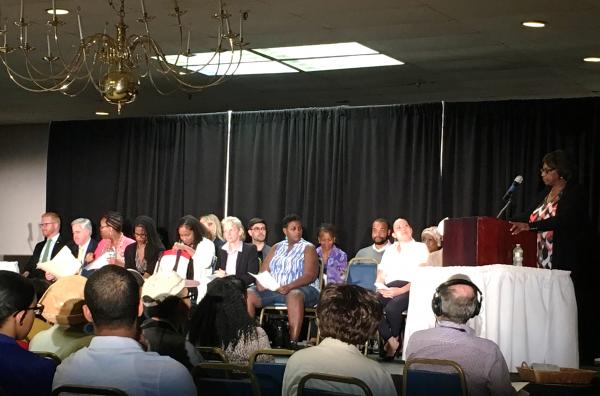 Caption: A panel of housing advocates and city officials spoke as part of a Tuesday night forum held at the Boston Teachers Union hall in Dorchester. Jennifer Smith photo
Advocates urged elected officials to commit to build at least 1,000 new units of affordable housing within the city of Boston over the next five years, with a ticket price of about $40 million annually, during a packed Tuesday evening event in Dorchester hosted by the Massachusetts Affordable Housing Alliance (MAHA). The housing targets earned the support of five city councillors who spoke at the forum.
City Councillors Andrea Campbell, Michael Flaherty, Matt O'Malley, Lydia Edwards, and Kim Janey pledged to support MAHA's "Expand the Pie" campaign and noted their ongoing work to increasing sources of funds, protect existing residents, and bring in additional revenue. At-Large Councillors Ayanna Pressley, Annissa Essaibi-George, and Michelle Wu were present for at least part of the forum.
"Where can we get that 40 million?" asked Roslyn George of Roxbur, a longtime MAHA member. "I'm sure you don't have it in your mattress."
To "expand the pie" of housing funding, speakers called for expanding or altering several existing forms of revenue, like doubling the Inclusionary Development Policy obligations for new construction and making the voluntary payment in lieu of tax (PILOT) program mandatory for the city's major schools, hospitals, and cultural institutions.
"There is massive wealth at Harvard, Boston University, Boston College," and, George later noted, Northeastern University. "They need to stop taking over neighborhoods and start contributing to affordable housing," she said.
Jonathan Rodrigues, an organizer with the Boston Teachers Union, echoed notes that the wealthiest institutions "have an obligation to the city." With the voluntary PILOT payments, Boston has left about $60 million on the table since 2012 from universities, hospitals, and cultural institutions, he said, which should be "growing with us, not on us."
Speakers over the course of the hour-long program spoke to the value of homeownership, which is disproportionately available to white residents rather than people of color.
"Tonight, we are fighting for the opportunity to own a home," said panel host Acia Adams-Heath, an MIT accountant and MAHA member. "We're fighting for the safety and security that only homeownership can provide, for the knowledge that we have roots, that we cannot be pushed out of our homes and neighborhoods."
She said after the forum that this is a solid first step in a longer conversation and they would follow up with Boston city councillors.
"We are very very concerned about what's happening in Boston," said the city's housing chief, Sheila Dillon."And we're here with you because we want change things, we want turn things around, we want to make sure that anyone who wants to live in Boston can buy a home in Boston, so you have our commitment."
The city is working hard to bring new units online, she said, and since 2014 about 850 affordable units have been constructed, permitted, or are in the pipeline.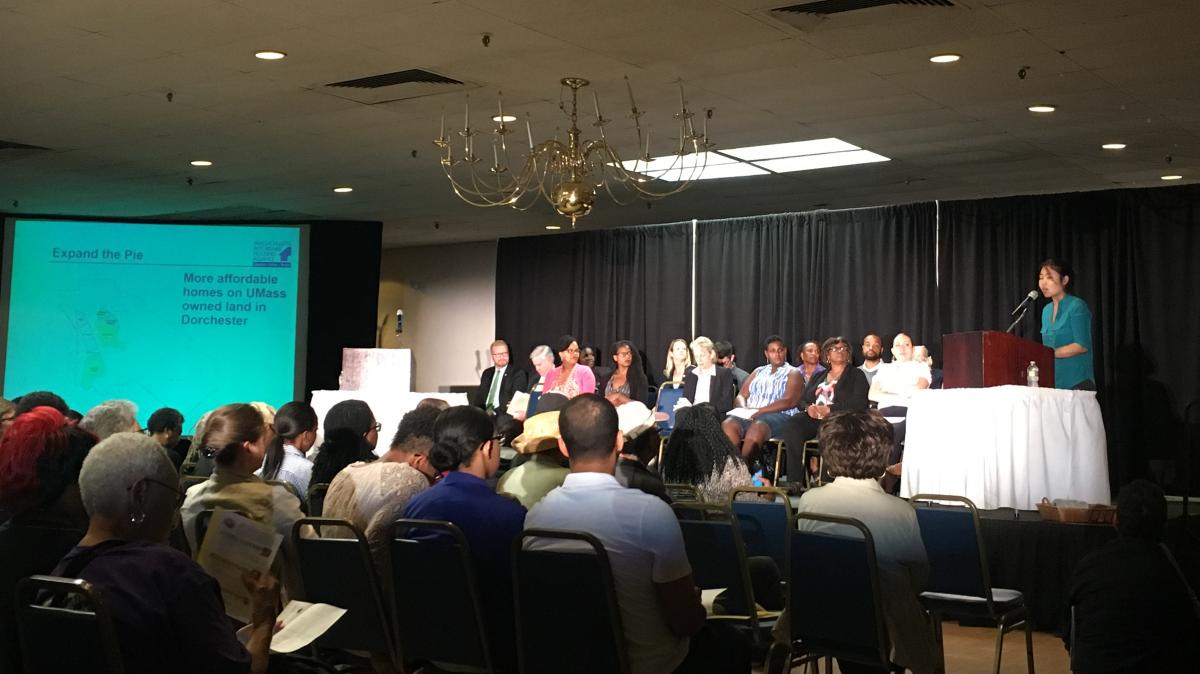 Ngoc-Tran Vu with the group Dorchester Not For Sale, which has pushed for equitable development around Glovers Corner, describes the "growing" and "inclusive" movement. "Join our movement," she said, "because this is a process that includes all of us and we can all thrive together as residents." Jennifer Smith photo
As to where these new affordable units should go, Shannon O'Malley with MAHA had some Dorchester suggestions. The Glover's Corner planning study currently underway between Savin Hill and Fields Corner will end in rezoning recommendations for a largely industrial swath around Dorchester Avenue. And Columbia Point itself includes prime acreage, she noted, with the sprawling UMass-owned Bayside site, but "we don't need another Seaport."
Edwards, who ran for the post in 2017 on a platform of housing and stabilization, said the 1,000 new homeowners need "to look like this room," gesturing out at a sea of diverse faces.
Homeownership is "how you create and grow community," she said. There are hearings planned to address speculative development and the PILOT program, she said. Additionally, as the city decides how to handle property it owns, communities should have a seat at that table, Edwards said.
Campbell said she is in the advocates' corner, but said that their "timeline is too long."
"We don't have 5 years. It's too long," she said.
Flaherty and Campbell echoed encouraging assessments of the Community Preservation Act, which passed in 2016 and levels a 1.5 percent property tax surcharge. This could net the city about $20 million a year with state matching funds, city officials say, allocated toward open space, historic preservation, and affordable housing.
But the CPA has its limits. As at least 10 percent of the money must go to each of the three core areas, the maximum that affordable housing could possibly clear is 80 percent of the funding, which in this first round is prioritizing "shovel-ready" projects.
Flaherty described himself as a reliable "ally" to the affordable housing cause through his work to increase linkage fees, adapt the city's inclusionary zoning policy, pressure universities to increase contributions, publicly support the CPA. There are 35 projects ready for the first CPA round, he said, three of which are for affordable housing.
Mayor Martin Walsh called on Tuesday for an increase in the linkage fees paid by developers in Boston. His proposal will increase the current linkage rates by 8 percent, to $9.03 per square foot for housing contributions, and to $1.78 per square foot for jobs contribution, for a total of $10.81.
The Office of Housing Stability, which staffed resource booths at the MAHA event, is planning a meeting on June 21 "for residents to learn about their housing rights and responsibilities, affordable housing programs, and displacement intervention resources." A "community conversation" portion is also planned for homeowners to share their housing experiences in the city.
The tone was ultimately optimistic. All attendees left the hall with small apple pies — a filling and fitting metaphor for the housing conundrum.
Jumaada Smith with the Greater Boston Interfaith Organization got a bit teary eyed as she addressed the room, she acknowledged, "because I am excited about this because I know this going to happen."
Jennifer Smith can be reached at jennifer.smith@dotnews.com, or follow her on Twitter at @JennDotSmith
Villages:
Topics: