Click here to view original web page at www.wbur.org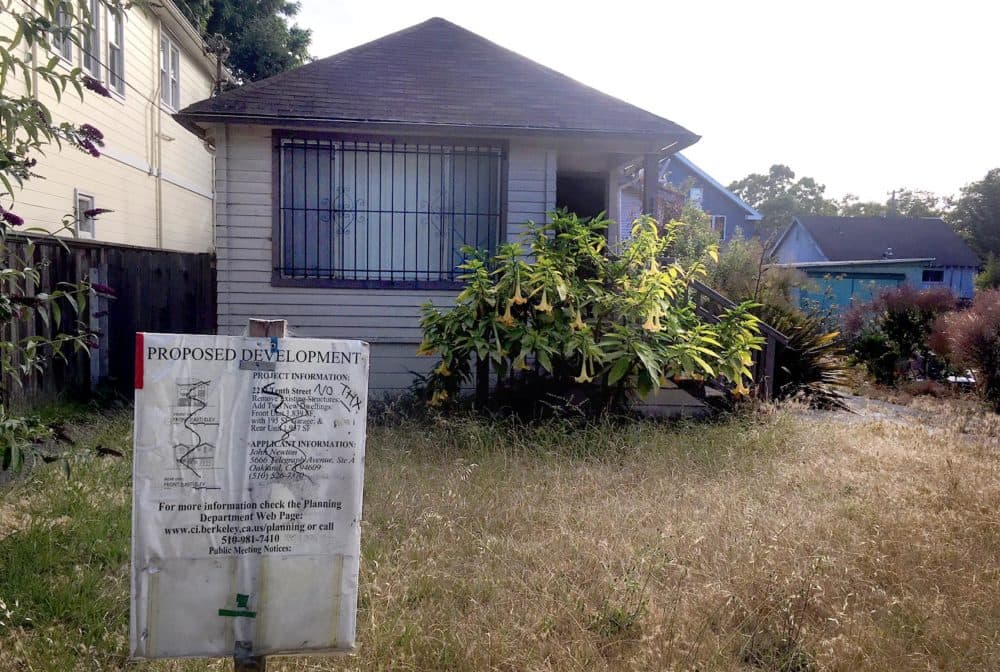 As soon as Alex Sharenko saw the zucchini, he knew it would go viral.
At a Berkeley City Council meeting last year, a developer was trying to get permission to tear down a house in West Berkeley and replace it with two, two-story homes. The project had already been green-lit by Berkeley's Zoning Adjustment Board, one of several public agencies involved in the approval of new housing. Now it had to get a majority of city council votes before a shovel could touch dirt.
Like any place in the San Francisco Bay Area, Berkeley desperately needs new housing. Sharenko felt this firsthand — he was paying $2,100 a month to split a one-bed, one-bath apartment with no living room. That's why he was at the hearing in the first place. He regularly goes to public hearings to advocate for new construction.
"Berkeley City Council meetings are kind of crazy places," says Sharenko, 31. "When something happens, it's going to reverberate. And this was absolutely one of those moments."
Scout Sheys, the owner of the house directly next door to the proposed project, stepped up to a microphone. She knew Berkeley had regulations about how much shadow could be cast by new housing. So, to convince the city council to stop the project, she brandished some homegrown produce.
"I brought a zucchini, because I love to garden," Sheys told the city council, wielding the fruit overhead. "And in order to garden, you need sunlight. But this zucchini exists because I don't have a big two-story house next door to me right now."
Sharenko felt for Sheys, whom Twitter quickly dubbed "the zucchini lady." Shadow objections aside, Sheys was mostly concerned that the developer had misled the home's current renters, and that two new high-priced houses would only accelerate the gentrification of West Berkeley. Those were concerns that Sharenko himself shared, and part of the reason the city council voted to delay the project's approval.
But at the same time, Sharenko knew his pro-housing allies in the "Yes in My Backyard" movement had found a nearly perfect symbol for the challenges of building new housing. Here was a neighbor objecting to a small development based on regulations about shadows, all to preserve the life of a zucchini.
"This is why it's hard to build new housing," says Sharenko. "All these issues kind of conflate together, and it's a big mess."
For pretty much forever, developers across the country have fought regulatory hurdles standing in the way of new housing. But as home prices and rents have soared, they've been joined by a new, young and increasingly powerful political force: the YIMBYs.
What's A YIMBY?
"YIMBY stands for 'Yes in My Backyard,' " says Laura Foote Clark, executive director of the YIMBY Action Network, which boasts more than 1,700 members in its San Francisco and Silicon Valley chapters. "We need to be building a lot more apartments in every neighborhood in the country, everywhere where the economy is growing and we have jobs and opportunity."
Like many other Bay Area YIMBYs, Clark used to work in the tech industry. But she wasn't an engineer — Clark worked in sales. And without an engineer's salary, she found it all but impossible to afford rent in San Francisco.
With an undergrad degree in economics, Clark was convinced the Bay Area's housing crisis had a simple cause: Demand for homes from too many people, and supply of too few homes. She was consistently surprised that many of her neighbors opposed new development.
In 2014, Clark received a letter from a nearby homeowner asking for her support in stopping a new housing proposal.
"Heaven forbid, a duplex," says Clark, recalling the letter. "And it was going to be ugly, and the neighborhood needed to rally around and oppose this dangerous assault on neighborhood character. And I was like ... am I allowed to curse on NPR?"
That letter prompted Clark to investigate what it takes to get new housing approved in San Francisco. It's a lot — public hearing after public hearing, zoning variance after zoning variance, environmental reviews and waivers for parking requirements.
And at every step in the regulatory process, she found an opportunity for neighbors to delay or prevent new housing from being built. At the public hearings where city officials would vote on new housing, it seemed like only one voice was being heard — older homeowners who worried how an influx of new residents would affect their day-to-day lives.
So she and some like-minded friends started showing up to those public hearings.
"I got asked so many times, 'Who's paying you to be here?' " says Clark. "And I was like, no one could pay me to care this much."
YIMBYs go to those boring zoning board and city council meetings you see on cable access, and they advocate for new housing. Sometimes they'll sue a local government if they feel it's unfairly denying a new project.
While they are most visible in the Bay Area, YIMBYs have chapters across the country. They're in Austin, Denver and New York — pretty much anywhere where rents and home prices have been climbing, and where younger residents feel shut out of the housing market.
While California may have one of the country's most elaborate regulatory processes for getting new housing approved, the state is by no means the only one to make developers jump through hoop after hoop.
"In America we've created this system where every single project needs to be poked and prodded and examined before we've given it a thumbs-up to build and have more people to live in our communities," says David Garcia, a researcher at the Terner Center for Housing Innovation at the University of California Berkeley.
Garcia says it's tough to quantify exactly how much these regulations add to housing prices. And that individually, each rule may be well-intentioned.
But the costs and lengthy delays are a major reason not enough housing gets built.
"It's not that these all these requirements aren't necessary," Garcia says. "The question is whether or not they're in line with the goal of actually building more housing."
From Zoning Board Hearings To The Mayor's office — And The 'Voldemort Of Housing Regulations'
Showing up at public hearings to push one duplex at a time has its limits. For the type of change the YIMBY's want, they need to change the people in power, so they're now looking to elected leaders to trim those regulations.
Earlier this year, they scored their biggest political victory yet: Democrat London Breed was elected the new mayor of San Francisco. In a race between several liberal candidates with progressive pedigrees, Breed distinguished herself with an unapologetically pro-development platform.
"We have made mistakes in the past by not moving housing production forward all over this city," Breed told San Franciscans in her inauguration speech. "And I plan to change the politics of no to the politics of yes, yes we will build more housing."
The YIMBYs campaigned heavily for Breed. They're also running their own candidate for San Francisco supervisor — the equivalent of a city council member — this fall. They hope flexing political muscle will translate to a quicker and more streamlined process for approving new housing.
But the YIMBYs have their eyes on a bigger prize, and know they need elected officials to do it. They want to dismantle what they consider the "Voldemort of housing regulations" — single-family zoning.
Large swaths of many American cities are reserved exclusively for single-family homes. About 50 percent of residential properties in San Francisco are single-family. In Oakland, Seattle and Austin — all cities with growing YIMBY movements — it's nearly 70 percent.
The YIMBYs want to build denser housing right next door.
"We end up fighting in places where it's currently legal to build apartments, and the arguments we have are absurd and terrible," Clark says. "What we don't talk about is where it's just illegal to build apartment buildings, period."
Detractors, And Questions Of Tone
Beyond the baby boomer NIMBYs they love to lampoon, the YIMBYs have their fair share of detractors.
They've run afoul of many anti-gentrification and displacement groups who say new development threatens their communities. When a statewide YIMBY group tried to pass a controversial bill in the California legislature that went after single-family zoning, they ran into fierce resistance from organizations representing low-income communities of color, some of which accused the YIMBYs of having a white privilege problem.
Others have criticized the YIMBYs for being far too cozy with the Bay Area's tech industry, from which the group derives a major share of its funding. The online payments company Stripe recently poured $1 million into scaling the YIMBYs statewide advocacy group. That reinforced the perception among many that the YIMBYs were merely a front for technology firms struggling to attract and retain employees because of high housing costs.
But as the YIMBYs seek to grow their political clout, they're running into another source of opposition, even among those who sympathize with their goals: Some people just don't like their tone.
Scout Sheys, aka the "zucchini lady," feels like she was unfairly demonized by the YIMBYs. Sheys is a third-grade teacher at an elementary school in Oakland. In many ways, she's the type of person the YIMBY's want to court — young, progressive and eager to convert a garage in her backyard to place where a renter could live.
"When the YIMBYs come and say that I'm opposed to affordable housing, that's not what I am," Sheys says.
Beyond the zucchini, the full details of the project she opposed never quite made it onto Twitter. YIMBY groups themselves backed off the project once they learned of concerns that tenants were being treated unfairly.
Clark, executive director of YIMBY Action, admits that her members can sometimes strike a strident tone, especially on Twitter. But she says that to keep the movement growing, her members must hear a clear and sometimes angry message.
"The thing that everyone wants you to do at all times is have more nuance," says Clark. "But you also need to beat the drum to rally people to your cause."
Matt Levin (@mlevinreports) is a reporter for the nonprofit news site CALmatters.