Click here to view original web page at www.citylab.com
The late Jane Jacobs never much liked forums for community participation in zoning and housing issues. She thought they were usually a sham to harness community sentiment in ways that benefitted powerful government and development interests. She personally told me the story of how Robert Moses dismissed her and her colleagues at one critical meeting as "nobody but a bunch of mothers!"
But the reality today is that community participation is effective—as a mechanism for creating and reinforcing NIMBYism and the accompanying restrictive zoning and land use policies.
That's according to a new study by Katherine Einstein, Maxwell Palmer, and David Glick, political scientists associated with Boston University's Initiative on Cities. People who oppose creating more multifamily housing development tend to speak at public meetings much more often than those who support it.
The study compiled unique data on the participants in planning and zoning meetings of 97 towns in the Boston metro area. It tracked some 2,800 citizen participants in meetings on issues of zoning and housing from 2015 to 2017. Most Boston-area towns have interpreted Massachusetts' open meetings law as requiring that meeting minutes include the names and addresses of all members of the public who speak. Using that data, the study matched participants with the state's voter files to identify the age, gender, partisanship, length of residence, and political participation and affiliation of participants.
The study zeroes in on towns across metropolitan Boston that vary in size, scale, density, and types of housing. The researchers coded meeting minutes, noting whether opponents supported or opposed development and the reasons stated for their positions, including factors like neighborhood conditions, character, impact on property values, environmental considerations, density, affordability, noise, parking, and traffic concerns.
First off, participants were much more likely to oppose new development. Nearly two-thirds (63 percent) of all comments were in opposition to proposed housing projects, compared to just 15 percent in support and 23 percent that were neutral. As the researchers note, this pattern strongly suggests that "the incentives to show up and oppose new housing are far stronger" than for those who support the housing.
Difference Between Commenters and Registered Voters
| | | |
| --- | --- | --- |
| Variable | Commenters | Registered Voters |
| Age | 58.7 years | 50.9 years |
| Length of Residence | 17.4 years | 11.8 years |
| Female | 43.3% | 51.3% |
| Democrat | 32.0% | 31.7% |
| Republican | 11.2% | 11.1% |
| Independent | 56.6% | 56.3% |
| Percent of Elections Voted In | 50.2% | 27.2% |
Overall, the study found that the participants in these community meetings were older and more likely to be white, male, and own a home. Women, for example, made up just 43 percent of commenters at community meetings, even though they represented 51 percent of registered voters. That said, women were more likely to oppose new development. In addition, participants were much more politically active than the voting population; those who spoke at meetings voted roughly twice as often as those who did not.
Homeownership, unsurprisingly, also plays a significant role in opposition to new housing development, a finding that is in line with other research. Zeroing in on Arlington, Massachusetts, a mixed-use, mixed-income suburb of Boston, the researchers found that even though nearly 40 percent of the town is comprised of renters, renters made up just 22 percent of active participants in community meetings.
Top 10 Stated Reasons For Opposing Housing Development
| | |
| --- | --- |
| Reason | Percentage of Commenters Citing It |
| Traffic | 23.1% |
| Environment | 18.6% |
| Flooding | 14.9% |
| Safety | 14.8% |
| Density | 11.9% |
| Aesthetics | 11.9% |
| Septic/Water | 10.9% |
| Neighborhood Character | 10.5% |
| Parking | 9.9% |
| Non-Compliance | 7.1% |
Traffic was the main concern of those who opposed new housing development; nearly a quarter of opponents cited traffic congestion as the main reason for their opposition. Other factors included parking, neighborhood character, environmental considerations, flooding, and safety. The main concern of those who supported new housing development, not surprisingly, was affordability.
There appears to be a considerable gap in the opinions and viewpoints of those who participate in zoning and land-use meetings compared to the general public. To get at this, the study took a close look at the difference between meeting participants and voters as a whole, on the issue of affordable housing. Specifically, it tracked a 2010 statewide ballot measure to repeal a long-standing Massachusetts affordable housing statute, Chapter 40B, a law that allowed developers to bypass local zoning regulations.
In the cities and towns in the study, 56 percent of voters opposed the repeal and supported 40B, in line with the statewide figure of 58 percent. Contrast this with the fewer than 15 percent of meetings participants who spoke in favor of new housing construction of any type.
Even in Cambridge, a community where 80 percent of voters supported Chapter 40B's affordable housing, only 40 percent of meeting participants spoke in support of multifamily housing. In all but one city, support for multifamily housing at local meetings turned out at a much lower rate than support for the 40B ballot measure in the general public.
Support for 40B Referendum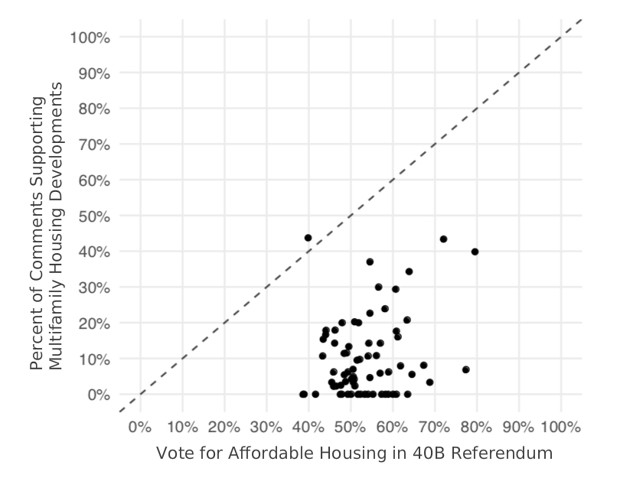 Professionals are also more likely to participate in meetings, using their own expertise to bolster their positions. The study notes that many public commenters tend to cite their backgrounds in law, architecture, engineering, planning, or other fields; and invoke their own understanding and familiarity with complex land-use and zoning issues. They thus use their technical expertise and jargon to "dissuade some underrepresented voices from speaking up."
There are partisan differences, too. Republicans were more likely to oppose new development and Democrats were more likely to support new development. As the researchers put it: "This finding suggests that liberal homeowners and renters may, in some instances, overcome a neighborhood-based opposition to new housing." Researchers found that almost a fifth of Democrats expressed support for new housing development at meetings compared to 12.8 percent of Republicans.
Instead of generating a more vibrant local democracy, participation in community meetings skews toward older, more affluent, and more invested groups. As such, meeting commentary presents an incomplete portrait of the opinions of the electorate, and serves as a mechanism for reinforcing NIMBYism, suppressing housing development, and exacerbating political and economic inequality.