Click here to view original web page at www.constructionspecifier.com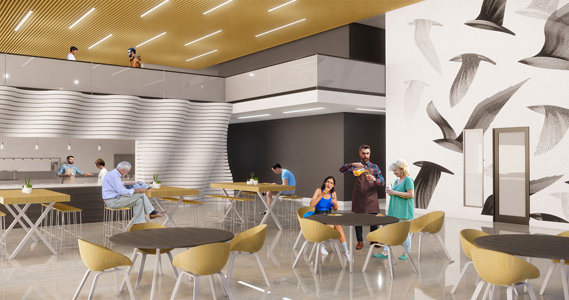 The research and development studio at KTGY Architecture + Planning has created Re-Habit, a plan for repurposing obsolete big-box stores into essential uses, including smaller retail spaces, housing, employment, and support for homeless individuals.
"With big box stores such as Macy's, JC Penney, and Sears closing in record numbers, repurposing such vacant spaces becomes increasingly necessary," said Marissa Kasdan, KTGY senior designer. "At the same time, the housing affordability crisis and other factors are driving up demand to house and service homeless individuals. Re-Habit offers one adaptive-reuse solution for multiple problems."
As an example, KTGY proposes transforming a 7990-m2 (86,000-sf) anchor store. An entry path to the mall is carved out of the mass, and retail spaces in varying square footages front the path to the mall entry. This allows the creation of a courtyard and three sizes of sleeping rooms: 20-bed, 12-bed, and two-bed rooms. Eight apartment units sit above the retail. Job training, services, and recreational programming join the mixed-use program. Added roof space is for recreation and a garden.
To achieve these solutions, the project team toured homeless service centers. In extended consultations with southern California's Long Beach Rescue Mission, for example, team members evolved the most effective designs and how to integrate such projects with surrounding communities.
"I am very excited about this idea," said Robert Probst, executive director, Long Beach Rescue Mission. "Re-Habit, if run correctly, can be a self-contained environment, with people living, working, and then moving into affordable housing. It would be a reward for people who are ready to change their lives."