Click here to view original web page at bostonagentmagazine.com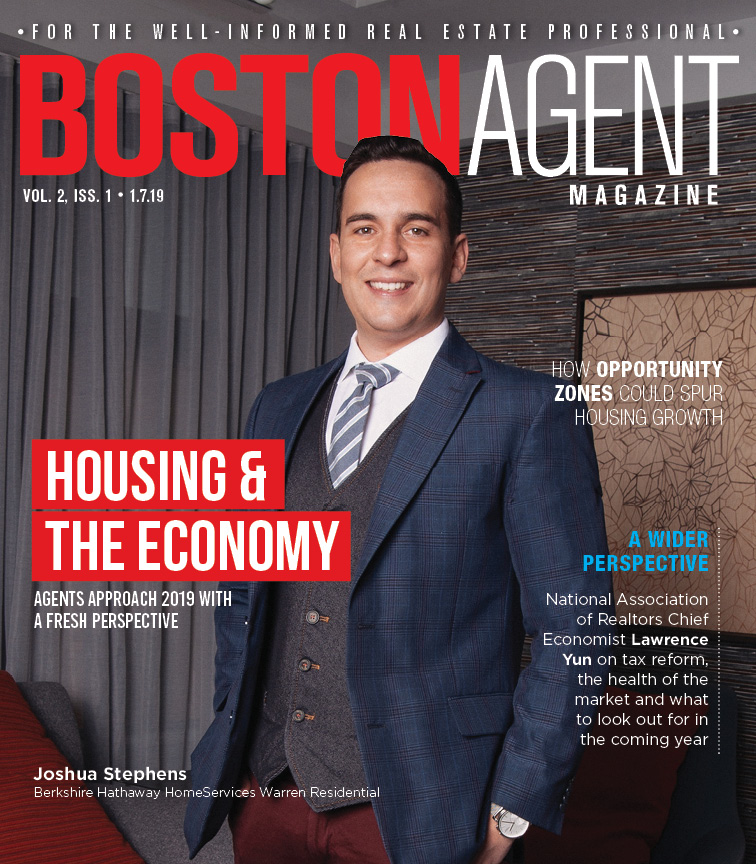 The start of a new calendar year is welcomed with parties, well-wishing and an eye toward new beginnings. But in the business and finance world, most people rang in 2019 fixated on endings. The business cycle, the bull market, home sales, price growth — so many economic indicators and financial models ended 2018 on a sour note.
At the same time, the typical hallmarks of a coming recession, like unemployment rates, economic productivity, consumer spending and others, were strong as ever. Rather than reassure anxious minds, this constant stream and good and bad news has only generated confusion, not confidence.
For the last year or more, the story of the United States economy could be told, convincingly, through one of two competing narratives: one of growth or one of contraction. But how well do either of those narratives hold up on a local level?
Joshua Stephens, vice president at Berkshire Hathaway HomeServices Warren Residential, said that he has certainly noticed a sense of change in the Boston housing market, the strength of the local economy and other factors meant it was no cause for alarm.
"The pendulum has definitely swung the other way, which was bound to happen soon," Stephens said. "Buyers are reacting now that they might have the upper hand. But that means transactions will probably increase over the next year, and we'll see fewer bidding wars."
Identifying a buyer's market
Anthony Lamacchia, broker/owner of Lamacchia Realty, routinely advises his agents and clients that the fall is the best time to buy a home. Whether in-person, over the phone, or with the blog articles he publishes regularly on his company's website, Lamacchia makes his point with equal doses of market data and personal experience. Between Aug. 1 and Thanksgiving, inventory is usually still high as buyers grow more distracted with a new school year, an end to long summer vacations or simply colder weather.
Time and again, great deals for buyers come and go between August and November, and by Lamacchia's early estimation, 2018 was no exception.
"Nobody listens to me," Lamacchia said, when asked if he thought Boston-area homebuyers had heeded his perennial advice.
He had even explained in a Sept. 10 blog that once again, the stars were aligning in favor of fall buyers. Weekly inventory figures had finally broken above year-ago levels for the first time since 2012. At the end of August, more listings in the Greater Boston area were sustaining price cuts, too, he found. Interest rates were rising, giving buyers perhaps the one and only reason for concern at the time. But even that indicator ultimately ended 2018 nearly the same as it was in August, thanks to a sudden jolt in the financial markets.
"It has always amazed me at how fast home buyers think they smell blood in the water," Lamacchia wrote in his Sept. 10 article. This would turn out to be as on the nose by the end of 2018 as it was near the end of the summer. Despite a generally strong economic backdrop, home sales failed to grow much beyond recent record-highs. Home prices did keep growing, though, creating a standoff between buyers and sellers that may continue into the early months of 2019.
Read more from our Housing & Economy Issue:
Paradoxically, this year-end shift in the housing market is leaving Boston real estate professionals, including Lamacchia, more optimistic than anything.
"We are going to see a very good market in 2019 because sellers have been humbled," Lamacchia told Boston Agent Magazine in an interview. "When winter and spring comes, they are more apt to take reasonable offers."
From Stephens' perspective, a sense of change was in the air as soon as July. "By then, buyers were realizing they had the upper hand," he said. More listings were staying on the market for longer periods, eventually facing price cuts. Within a few months, "unless you have a pristine property, you're not going to get a lot of offers," Stephens said, describing the state of things by late fall. According to a report from Warren Residential recapping the Boston condo market in the third quarter of the year, prices in some of the city's most expensive, in-demand areas were dropping. At the same time, the supply of units for sale had grown, in some cases by more than 70 percent over the same period in 2017.
"Developers have a lot of questions why that's the case, that things aren't flying off the shelves," Stephens said. "Once the psyche shifts and people realize we are in a different market, agents should help balance out the supply and demand."
A national shift
Boston was hardly alone in enduring a midsummer slowdown in the housing market that persisted for the duration of 2018, spooking buyers, sellers and investors. Many of the hottest U.S. real estate markets, including Seattle and Denver, saw home sales plateau late in the summer. More reasonably priced yet growing cities like Las Vegas, Phoenix and Tampa soon followed the trend. By October, home price growth was essentially flat according to the Case-Shiller price index, and more listings faced price cuts.
"It's a good thing, once buyers realize they have the upper hand," Stephens said about the recent developments in the broader housing market. "Buyers are taking their time, but I think you'll see a lot more people moving forward and pulling the trigger."
By November, that prediction proved accurate. The Greater Boston Association of Realtors reported late December that the previous month was the best November on record for local home sales. Compared to October, single-family sales grew by 11.7 percent, while condo sales were up 6.7 percent. Finally, it appeared buyers were taking advantage of growing inventory and pouncing on listings rather than waiting even longer.
"We could still have a strong spring," Stephens said. "Inventory is higher than usual heading into the winter, and there are a lot of buyers out there." While he and other agents were still wary of what could be a minor downturn in the housing market in early 2019, Stephens anticipated things could still get "crazy" once the weather gets warmer.
Efforts to combat inventory shortages
The near-term future of Boston's housing market depends largely on existing home sales. But its long-term outlook, and that of the U.S. housing market as a whole, hinges on new construction. Specifically, homebuilders must find a way to close the gap between the number of willing buyers entering the fold over the next several years, and the number of homes actually available for purchase. Given the anemic growth in new home construction since 2008, economists estimate that gap could be equivalent to 2.5 million housing units that are essentially "missing" from the market as of 2018. The Boston metro alone has added around 110,000 new residents since 2010, with more on the way, but has only permitted 32,500 new housing units since then.
Local governments are already devising plans to restore balance to their own housing markets over the next decade, or even further out. Boston Mayor Marty Walsh and a coalition of mayors from 15 other Boston-area towns announced in October a plan to combat the area's housing shortage. By 2030, the coalition hopes to add 185,000 more units to the area's current housing stock, with an emphasis on affordability.
Lamacchia applauded the move. "We need more supply," he said. "First-time buyers need it more than anything."
Actually filling that supply gap in the right markets is easier said than done. The Boston 2030 plan calls for at least $50 million per year in funding to be allocated toward first-time buyer programs and affordable home and apartment construction. But city officials and real estate pros agree that the more pressing, possibly intractable issue is the city's zoning codes. Combined with Boston's already high population density, the complex web of building restrictions crimps developers' bottom lines, driving prices ever higher.
"Anyone not making six figures can't afford to live in Boston right now, which kind of sucks," Stephens said. He supports any plan that helps stimulate the local housing market, but is wary of the details that will determine success or failure — not just how to make more affordable homes, but how to make them desirable, too.
"Ultimately, it's a matter of what's being built and where it's being built," Stephens said of the Boston 2030 plan. "For example, millennials want to be close to amenities and services. So you could build 150 inexpensive condos in Mattapan, but are millennials going to want to live there?"
Even outside the city center, local zoning laws make new development costly for builders, ultimately constricting the overall supply of homes. "All they do is make it harder," Lamacchia said regarding the zoning codes around Greater Boston. "The cities and towns have the power, and they don't want to let the power go."
The 2030 plan would cost the city an estimated $50 million per year, which includes projections for state and federal grants that haven't been finalized yet. In any case, agents agree that the coalition represents a significant first step. Recently enacted federal legislation around "opportunity zones" provide another avenue for progress, but the logistics of those funds still need to be worked out, too.
"It's great for stimulating growth by helping developers save a little, but you still need people to want to live there and be able to afford it," Stephens said. "It's heading in the right direction. There just needs to be more clarity around the process."