Click here to view original web page at www.wbur.org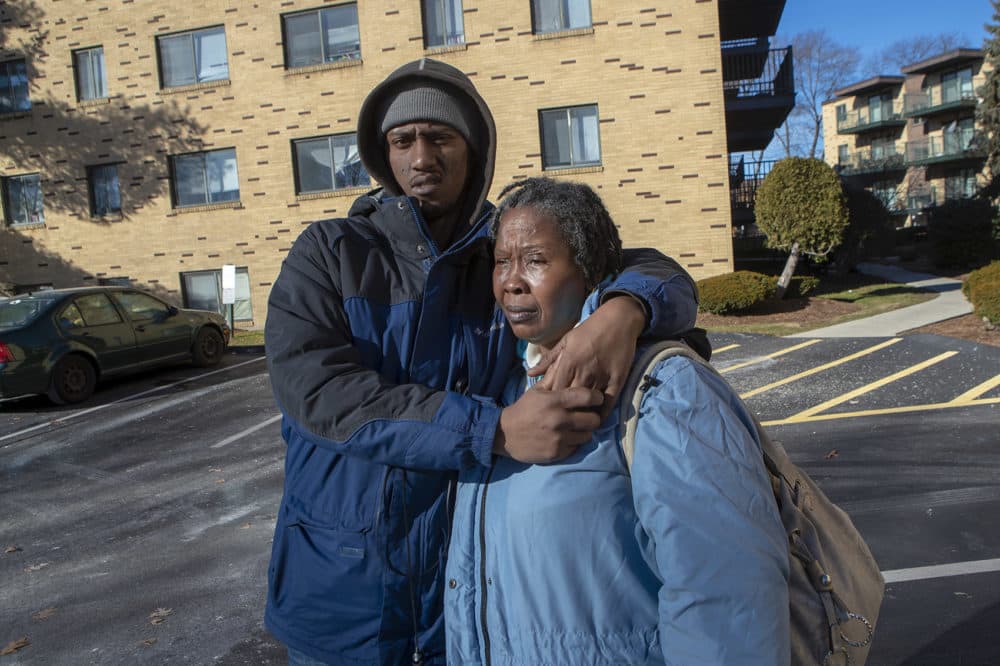 Part 3 of a four-part series about affordable housing in Boston. Here are Parts 1 and 2.
Malique Gordon has already moved three times since his 6-year-old son, Makari, was born.
Gordon, 27, lives with his mother Maureen Nugent, who receives a Section 8 voucher. Section 8 — or the Housing Choice Voucher Program, as it's now known — is a federal program that pays for a predetermined amount of rent. It has a lot of rules about what kind of housing voucher-holders have to live in, and Gordon and Nugent say they've had a mixed experience with the program.
Their main problem has been that the rental subsidy is far below most rents in Boston. When they first looked for a home, landlords would tell Nugent and Gordon that the voucher did not cover the rent they were charging.
"It was just leaving us stumped for a while, and we had to take pretty much whatever is given," Gordon says. "It might not be the best neighborhood, but it's the cheapest."
When Makari was a baby, the family lived in Uphams Corner in Dorchester, and they were able to stay there for four years with the Section 8 subsidy. But as Makari grew older, the Section 8 program required that he have a bedroom of his own.
Like what you're reading? You can get the latest economic news (and other stories Boston is talking about) sent directly to your inbox with the WBUR Today newsletter. Subscribe here.
The rental allowance for a three-bedroom apartment is just under $2,200. Section 8 recipients have between 60 and 90 days to secure housing. Plus, the voucher only covers first and last month's rent, so the tenant has to put together the additional upfront costs — like the security deposit and broker's fee. These costs often present huge barriers.
"In finding a place, a three-bedroom, at one point, they told me I had to have $8,000 to get it!" Nugent says.
When they did find an apartment, it wasn't in a neighborhood that the family liked. There was a fire in the building in 2018, leaving the family in a shelter for several months. Gordon began to worry his family would be priced out of Boston.
"My mom works inside the city. My son goes to school inside the city," he says. "People that I care about dearly are here."
'I Should Have Stayed There'
Reports from service providers find that Nugent and Gordon's experience isn't unique. For Section 8 holders seeking to live in Boston, their options are limited.
"If they are going to be finding a unit in Boston, it's primarily in Dorchester, Roxbury or Mattapan where the units are," says Sue Nohl, deputy director of MetroHousing, one of the largest housing service providers in the Boston area.
There are many reasons a Section 8 tenant might have to move unexpectedly. One has to do with family size, as happened to Nugent and Gordon. A second has to do with rent increases over a certain threshold. If the subsidy won't cover the increase, then the voucher-holder has to move. They don't have much buffer from the market. A move is stressful. Now add on to that additional pressures, like the lack of a financial safety net.
"They're stressed because they have to find a unit when they didn't plan on it," Nohl says. "They are struggling because they may be connected to supports in their neighborhood. [Their current housing] may be convenient for them to access public transportation, or to be able to access jobs, schools, medical appointments."
Before Nugent got the Section 8 voucher, she had lived for two decades in an apartment in Roxbury operated by a nonprofit housing organization. The rent was capped based on her income. It's where she raised Gordon and her daughter. But she had wanted to leave the neighborhood. She worried her kids would end up victims of violence.
"I just prayed and says, 'We got this far, and nothing has happened to my kids, so we'll stick it out,' " Nugent says. "Then after leaving with the Section 8, I said, 'Oh my God, I should have stayed there.' I knew almost everybody in the community. And it seemed kind of tough to give it up."
'Why Do People Have To Move To The Suburbs?'
This tension — the desire for something better, weighed against the desire for roots — speaks to a central debate around fair housing. A fundamental goal of federal housing policy is to promote residential integration and housing choice for low-income households. The Section 8 program aims to do this by providing low-income residents an avenue to move out of so-called "areas of low opportunity."
Research bears out that children who move from high-poverty neighborhoods to low-poverty areas have better financial, educational and health outcomes than children who remain in such neighborhoods.
If the government helps with the rent, the household can move to otherwise-unaffordable areas with more safety, better schools and other resources. Often those areas are out of the city. But some question why families should have to move to access greater opportunities.
"Suburban communities ... that are supposed to be the target for integration have certain characteristics, and we think those characteristics are good: They're clean, they're open, children have good schools," says David Harris, managing director of Harvard Law School's Charles Hamilton Houston Institute for Race and Justice. "The question becomes, why it is that people have to move to the suburbs to have access to those things? Why isn't our policy designed to make sure all communities are endowed with those characteristics, where the amenities and the benefits are all the same?"
Before his position at Harvard, Harris was the director of the Fair Housing Center of Greater Boston. He argues "mobility" — moving people out of cities and to affluent suburbs — is the wrong solution. He calls it "policy by lottery."
"They create opportunities for some, if you happen to be lucky enough or patient enough," Harris says. "My take on this is to redistribute opportunity rather than redistribute people."