Click here to view original web page at www.expressnews.com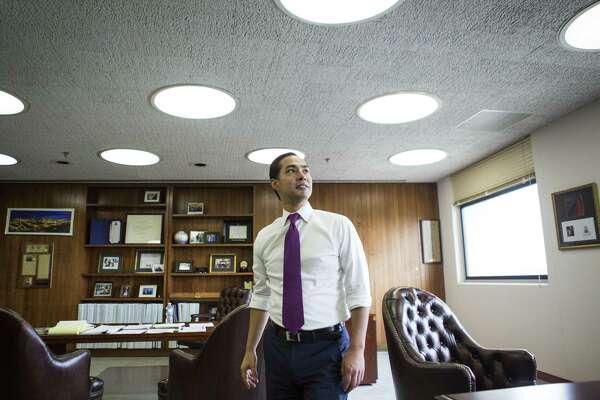 As housing secretary in the Obama administration, Julián Castro did what no one in the job before had done - finish rules to enforce the Fair Housing Act of 1968, landmark legislation long ignored by forces unwilling to make hard decisions about segregation.
Shortly, Castro plans to spell out a housing policy that builds on his experiences running the Department of Housing and Urban Development for two and a half years. Like others in the race, he is embracing an issue of growing concern: a housing shortage that, by many accounts, has reached crisis proportions.
Research shows a worsening picture of housing availability even as the economy grows. A study in March by the National Low Income Housing Coalition reported a shortage of 7.2 million rental homes available and affordable for extremely low-income families. A Harvard University study last year found that nearly half of renters spend more than 30 percent of their household income on housing.
At a critical time in the campaign, with presidential debates in two weeks, activist groups are pressing candidates to spell out bold ideas. A town hall on housing in Iowa this weekend marks the first of several in early-voting states. Castro is the featured guest.
For subscribers: Twins Julián and Joaquin Castro step onto national political stage — together, as always
New Jersey Sen. Cory Booker, one of Castro's rivals, recently offered a plan that amounts to a major new entitlement program, giving tax credits to renters to ensure that no more than 30 percent of their income goes for housing.
California Sen. Kamala Harris also proposes tax credits for renters. Sens. Elizabeth Warren of Massachusetts and Kirsten Gillibrand of New York say they would seek billions for the Housing Trust Fund, a unique federal program designed to increase the housing supply for low-income people. As it stands, the program relies on a small portion of proceeds of Fannie Mae and Freddie Mac business.
In the competition of ideas, Castro has the advantage of having operated as the nation's housing chief, and before that as a mayor, steeped in San Antonio's housing problems.
If consistency counts, an examination of Castro's record at HUD shows a steadfast focus on a single concept - opportunity - which has its roots in Castro's own modest upbringing and lives on as a maxim of his presidential quest.
Texas Take: Get the latest news on Texas politics sent directly to your inbox every weekday
His HUD experience shapes Castro's political journey in other ways; his campaign manager Maya Rupert, senior adviser Jennifer Fiore, press secretary Sawyer Hackett and South Carolina state director Christina Cue all come from the nation's housing agency. He relies on others who worked at HUD for advice.
At HUD, Castro approached housing as not just where people live but the key to their access to opportunities - for education, jobs and cultural offerings. Looking broadly at people's lives is how the San Antonian also has crafted other recent policy offerings on education and criminal justice.
As HUD secretary he often put it this way: "A ZIP code should never determine a child's future."
Housing shortage a growing 'tsunami'
The shortage of living space is pushing more families into poverty, experts say, and is being felt particularly in the West. In Los Angeles County, a recent 12-percent jump in the homeless is linked to lack of housing.
In Texas, the need is dramatic for extremely low-income households - those at or beneath poverty guidelines — which numbered more than 840,000, or 23 percent, of all renter households, according to analysis of census data by the nonprofit National Low Income Housing Coalition.
The Houston, Dallas and Austin metro areas ranked in the top ten nationally for severe shortages of available and affordable housing, according to the analysis. In other words, housing needs are substantial for lower income families given that homes they can afford are already occupied.
"It's an ever-increasing tsunami storm that's going to hit the country," said David Nisivoccia, president and CEO of the San Antonio Housing Authority. In San Antonio, a significant problem is a backlog approaching $500 million in capital needs repairs in public housing, he noted.
For subscribers: Julián Castro calls for ending criminal penalties for border crossings
In Houston, a waiting list for public housing was cut off at 112,000, reflecting displacement from Hurricane Harvey. The list numbered 14,000 before the storm two summers ago.
Tory Gunsolley, president and chief executive officer of the Houston Housing Authority, said he wants to hear Castro and others in the race speak broadly of housing policy, not just affordable housing.
He observed that he has waited long for housing to emerge in political conversations.
"We'd watch presidential debates and States of the Union, we'd tweet, and we'd ask ourselves, did we miss it? Did anybody talk about housing?" he said.
"For so long, the conversation has been how do we do more with less. At some point, the conversation needs to be how do we do more with more? Or how do we do even more with more."
"Our Homes, Our Votes: 2020," a scorecard grading candidates on their housing plans, is what the National Low Income Housing Coalition calls its unprecedented drive to command attention. Diane Yentel, coalition president and CEO, echoed the hopes of many that the candidates will lead a reckoning about housing.
"We have been working to try to elevate the issue for years, but with really minimal effect. This is a unique moment," she said.
Castro at HUD: Obama on the line
Julián Castro was driving home in the spring of 2014, a sack of Chinese food on the front seat, when Barack Obama's voice sounded through speakerphone.
Obama thought highly of Castro. In 2012, he'd selected the 37-year-old mayor to deliver the keynote speech at the Democratic National Convention, a distinction that had catapulted Obama to fame at the party's 2004 national gathering.
Obama said over the phone he'd love to see Castro become governor, but Texas probably was "not ready," as Castro recalls the conversation.
The president had a scoop: HUD Secretary Shaun Donovan, a bright light of his administration, would be moving to the weightier job of Office of Management and Budget director.
"I'm calling to see if you're interested in taking his old role on," Obama said.
Obama had tried to lure Castro to Washington two years earlier with a new post dealing with transportation. Castro wasn't game, telling the president he might make the leap for the job of education secretary. Castro wondered if Obama would call again.
"That sounds like something I'd be inclined to do," Castro replied to Obama, according to recollections in his memoir published last year, "An Unlikely Journey." First, he'd need to run it by a few people, namely his wife, Erica, he told the president.
Castro was sworn in on July 28, 2014. HUD's massive concrete headquarters with its strange curvilinear design and its broken elevators "looked like something that needed assistance from the department it housed," he remarked.
One working elevator had long been reserved for HUD secretaries, housed on the tenth floor. Castro decreed that henceforth, anybody could use it.
Castro joined a presidency more than two-thirds finished, the time in an administration when newcomers see big ideas slow-walked to their deaths. It helped having Obama squarely in his corner, evidenced when the president showed up at HUD three days after Castro took over.
On an elevator that day, cleaning staff told Castro of their excitement of the prospect of a presidential visit. Top aides recall Castro telling them to make it a priority for the janitorial workers to have photos taken with Obama.
Castro took over a $44 billion agency with 8,000 employees that had been a magnet for scandal, victimized over the years by bid riggers, fraudsters and embezzlers. In an early initiative, he ordered ethics training at headquarters and at public housing agencies and started meeting monthly with HUD's inspector general.
In Washington, Castro catches flak
Castro quickly ran into trouble on Capitol Hill. His nomination for deputy secretary stalled for months, meaning that he was without a No. 2 to run the agency day-to-day. He'd brought with him San Antonio's former housing chief, Lourdes Castro Ramirez, to be assistant secretary. But the Senate wouldn't confirm that appointment either, in a dispute that had nothing to do with her qualifications.
Learning the ways of Washington, Castro kept Castro Ramirez in a significant position that didn't need Senate approval.
In his first major initiative, Castro encountered more blowback from Congress. He engineered a cut in mortgage insurance premiums that had the effect of saving Federal Housing Administration borrowers about $900 yearly and making it easier for first-time homeowners.
"Sweetheart deals to so-called community groups," was how former Texas Rep. Jeb Hensarling, chairman of the GOP-run House Financial Services Committee, derided the cuts at a hearing.
In 2017, three days before leaving HUD, Castro announced another premium cut that would save borrowers an additional $500. It was canceled hours after President Donald Trump was sworn in.
Castro has focused heavily on education throughout his public career, and education was at the heart of what he described as signature achievement at HUD - a program enabling high-speed internet connection for some 275,000 families in public housing.
Former aids recall Castro soliciting ideas on how to set up HUD's ConnectHome program, which brought together public and private partners for a web of programs aimed at narrowing a digital divide that, Castro asserted, held many low-income students back.
San Antonio was one of the 28 cities and Indian tribes selected for the program. Later, an independent study reported that within 6 months, hundreds of people had received digital literacy training and 263 refurbished laptops had been distributed.
"The perceived benefits of having high-speed internet access at home were many," the study concluded, noting how online capability helped with homework and finding jobs.
HUD played a leading role in an Obama administration initiative that claims to have cut chronic homelessness over 20 percent and veterans' homelessness by a third - successes being eroded by rising costs of housing.
In 2016, Castro engineered a smoke-free rule in public housing, not only for the public health benefits but also to protect buildings from damage. That year he oversaw update of an equal access rule banning discrimination based on sexual identity, a commitment to the LGBT community he stresses with promises in his presidential quest.
Castro Ramirez, the former San Antonio housing chief who oversaw the Section 8 voucher program and key HUD initiatives, saw a theme running through Castro's initiatives.
"They were all consistent with his belief that housing was a platform and if we can figure out a way to create partnerships focused on education and health and jobs, families not only would have better lives but would be able to reach for more," she said.
Attacking racism at the root
In his time at HUD, Castro was routinely mentioned as Hillary Clinton's potential running mate, a status resulting in extra scrutiny.
His drive to uphold the half-century-old Fair Housing Act drew such attention. The rule, long in the making, requires entities receiving HUD funds to study patterns of racial bias in housing, publicly report their findings and set about to end discrimination.
Beyond equity in public housing, the rule is viewed as a means to break down structural disparities created over the years by government decision-making and unequal treatment of minorities.
For decades, states and localities who contributed to discrimination with their investment policies blocked efforts in HUD to reach those goals.
In the Clinton administration, HUD Secretary Andrew Cuomo, who would become governor of New York, withdrew the rule amid a storm of complaints. In the 1970s, George Romney, a GOP HUD secretary, resigned in part because President Richard Nixon undermined his efforts.
Shaun Donavan had begun writing the rule but finishing it fell to Castro, who involved offices throughout the building, former HUD officials recalled.
Sara Pratt, who directed civil rights enforcement at HUD until 2015, observed that difficult decisions had to be made at the end.
"A lot of work was done under Donavan, but it took Castro to get it published and get it out the door. He gets the credit for bringing it home," she said.
In 2017, HUD Secretary Ben Carson said his agency planned to "reinterpret" the rule. Last year, HUD scuttled development of a computer program designed to enable local governments to gather data required.
Despite Castro's efforts, recipients of HUD funding still "don't have to take on the hard issues," Pratt said. "They say whatever they want to say, even if it's a bold-faced lie, and they get away with it."
The rule that took up much of Castro's time also contributed to a minor blemish on his record. After ordering mandatory ethics training at HUD, Castro ran afoul of ethics rules when he mixed policy and politics in an interview about the fair housing initiative.
In 2016, in an interview at HUD headquarters with Yahoo Global News anchor Katie Couric, HUD's logo visible in the background, Castro delivered a glowing assessment of Hillary Clinton's abilities.
Before talking politics, Castro declared that he was removing his "HUD hat." That made no difference to the Office of Special Counsel, a federal agency that exists mainly to protect whistleblowers, which accused him of violating Hatch Act prohibitions on political activity by federal employees.
The admonition embarrassed Castro given that Hillary Clinton was closing in on picking a running mate. But it died down quickly after the White House declared that Castro had taken responsibility.
A headline in Castro's hometown San Antonio Express-News may have captured the gravity of the infraction: "Castro lands in lukewarm water."